Glamping is a new craze sweeping the nation, I've seen a whole host of new and wonderful ideas for getaways and retreats. The kind of retreats I'm talking about here are luxury retreats, or luxury camping. There are hundreds of companies popping up all the time with innovative ideas, and there are also several websites that bring all of these areas together for us to take a look at. One of these websites I came across recently and actually spent a long long time looking a lot of the places available. My jaw had dropped to the floor and I literally loved all of them.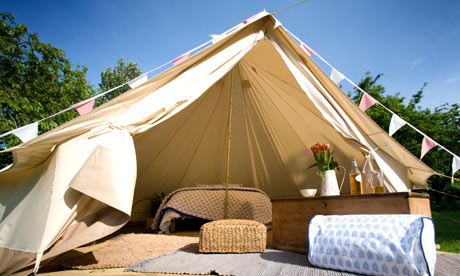 Apart from the expense there is really nothing deterring me from taking one of these holidays. The pricing of these types of venues can vary but its usually around £200 a night for 2 person tent. Now, this sounds rather steep for a camping trip, but if you actually take a look at some of the venues you may understand why. Some include different things but mainly its all about the venue.
Take a look at glamping on Google and see what you can find.